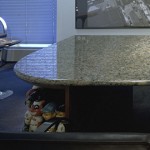 Classic Office with Magical Surprises
A little known fact about the Levy Restaurants President/CEO was that he loved performing magic tricks to capture the attention of clients. Classic and clever millwork with secret compartments enabled magical gift-giving, such as an illusionary handing out of sports tickets or restaurant vouchers.
Hello
Designers themselves, our colleagues at Pear Design Graphics demanded that their environment be expressive, a reflection of their design attitude and philosophy.