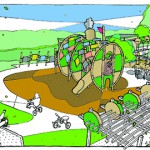 An outdoor environment that embraces learning!
~ Winnetka Public School Nursery Staff
Nature as the Third Teacher
The Winnetka Public School Nursery's Outdoor Learning Environment takes its inspiration from trains, tracks, and stations but its philosophies from its Reggio Emilia-based curriculum.
Bridging Accessible Play
Independence Grove, home to the children's play area, surrounds a 115-acre lake, with miles of trails for recreational activities. To supplement the manufactured standard play equipment and to help create a distinct children's zone, several new architectural elements were added:  the Entry Maze, the Box Bridge and the Tree House were conceived to add interest and definition.