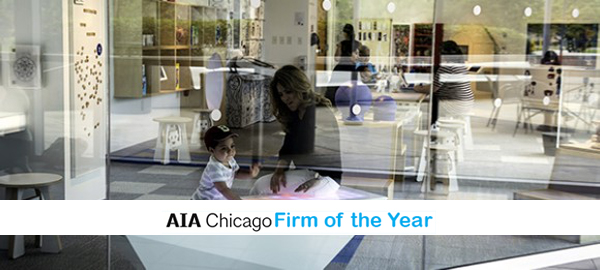 The renovated family gallery is "super chill," designed to be worthy of a child's curiosity and adult admiration, demonstrating everyone is hard-wired for creativity. The whiteness of the space serves as a blank slate for artistic expression and media exploration, from new-age technologies, including a Smart Table™, projector and iPads, to traditional art-making. It is an environment rich in evocative objects and commissioned art installations that inspire active learning, choices, and social engagement. Both orientation and terminus, the discovery gallery is "the place" that frames museum visits.
During envisioning sessions held with staff, curators, educators, and the museum director, the notion of reaching out became critical to programming. Visible from the outdoor sculpture park, the logo-embellished wall panel featuring a circular opening for nesting and the whimsical MADI geometric abstractions point to the entry. Removing interior partitions made room for commissioned artist installations that pop into the foreground, adding color, form, and content. An undulating all-white bench, atop a blue landing stripe, flows throughout the gallery, a clear line of interactivity and art-making. Custom-designed with enclaves, its continuous form enhances the gallery's social atmosphere, offering a booth for face-to-face encounters and varied surfaces for expression.
Reusing existing walls, ceilings, and infrastructure with its embodied energies is the museum's responsible strategy for sustainability.  Other sustainable upgrades include recycled content flooring, using local craftsmen for installation, and repairing and reimaging the pin-press and portrait kiosk. Retrofitting track lighting with LED bulbs and UV filters lowered the gallery's temperature, humidity and glare.
For the past year, Peter and Sharon Exley worked with the Frost Art Museum to re-imagine and redesign the Family Art Gallery. They are great listeners. Architecture Is Fun translated our thoughts, needs and wishes into creative solutions filled with joy, whimsy, environmental responsibility, and always a great aesthetic sensibility. The result is awesome and gives children a sense that the Gallery was created with them in mind, to freely explore the artful world around them.
~ Amy Pollack, Special Projects Director, Frost Art Museum
Working with Architecture Is Fun was a fantastic opportunity to affect the ways in which kids interact with my work. They are always amused with my art but this project gives kids the opportunity to interact in a more hands-on experience and have a longer lasting impression.
 ~ Pepe Mar, Artist, Miami.
Awards & Recognitions:
First Place Award – Contract Project Small Firm, ASID Design Excellence Awards, 2015,
Recognition for excellence in design of a small project.
Owner:  Patricia and Phillip Frost Art Museum
Interior Architecture, Branded Experience, and Public Space Design:  Architecture Is Fun, Inc.
Curated Art, Furnishings, Prop & Décor:  Fun Finders
Artists:  Volf Roitman, Edouard Duval-Carrié, Pepe Mar, Chaitra Garrick, Alex Trimino, Sharon Thieman and the Cracking Art Group.
Location:  Miami, Florida
Status:  Completed 2013.
Photography:  Sharon Exley and Courtesy of FIU

SaveSave
SaveSave
SaveSave
SaveSave