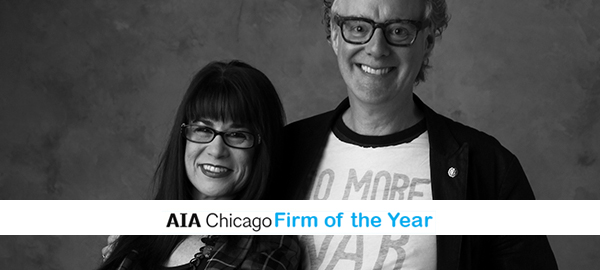 AIA Chicago Firm of the Year!
Honoring their commitment to FUN, collaboration and their designs for "deeply humanistic and courageous" projects, Architecture Is Fun is AIA Chicago Firm of the Year.

This American Institute of Architects award recognizes outstanding achievement, excellence, and contributions to the architectural profession.
Architecture Is Fun is a collaborative practice exploring the nexus of architecture, education and experience.
For the past decade, our small successful studio spread its influence as educative design strategists, consulting to major organizations in myriad fields. Because we work closely with museums, shopping malls, developers, educational facilities and non-profit associations on a wide range of issues, we are building accessible places of living, learning and fun that are critical for human growth and development.
Zurich Esposito, Former Executive Vice President AIA Chicago states, "… a jury of our peers was moved by the quality of our work, the impact of our projects on Chicago's built environment, and our dedication to integrating fun into everyday life, work and play".
Architecture Is Fun is humbled by this honor. We thank our clients, colleagues and communities for collaborating with our studio.
SaveSave
SaveSave
SaveSave
Firm of the Year from Sharon Exley on Vimeo.
SaveSave
SaveSave
SaveSave
SaveSave