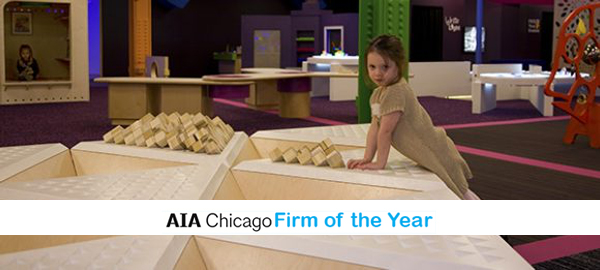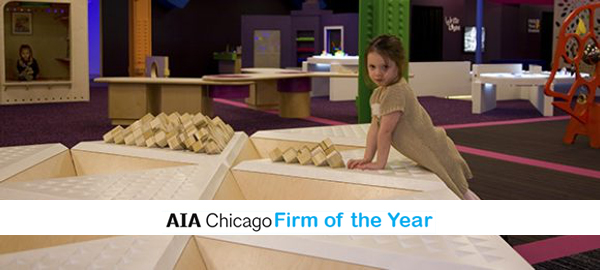 DuPage Children's Museum Renovation
We did it, the reviews are in and we received a 5 star rating…There were audible gasps of joy and delight.  Everyone came together and with one big push…..we were open!  Thank you for the passion, the hard work and the commitment that had us looking so beautiful at 4:00 today.  The Mayor was truly moved and just in awe of what were able to do in a few months.
~ Sarah Orleans, President & CEO, DuPage Children's Museum
Restoration in Children's Terms
Building a vibrant home for a children's museum in a discarded lumber warehouse demonstrated an important philosophical message of value and creative potential, noted by its big iconic and welcoming red door. Sixteen years later, burst pipes caused massive flood damage to all three floors of the 42,000 square foot museum. With insurance and schedule as key restoration challenges, the original architect and contractor brought familiarity with the complicated building and an understanding of the museum's hands-on approach to learning that were essential to meet opening day, a mere six months later.
While initial construction stages, from mold remediation to addressing structural integrity, were in play, the design team expressed the museum's brand as elements inspiring creativity, sustainability, and invention. A few salvageable original items including the well-worn fishing boat and birthday zones were turned over to artists for re-imaging. By re-addressing staff needs, a round office became the evocative Wonder Room, a site-specific artist installation exploring technology, color, and active learning. The new Pyramid Bench embraces the public space as a portal, connecting family engagement and play in ways that transition visitors from the entry into creative galleries.
Educator and museum professional, Nancy Goodman commented that, "The museum looks beautiful, bright, and full of happy, engaged families – the best indicator of success. There are many examples of how the museum has been carefully reorganized to make better use of its space. I couldn't resist trying out the Big Lawn, it's so visually appealing…a great space for kids to experiment with movement. I appreciate how comfortably the ramp and hills fit together, incorporating an ADA-compatible experience seamlessly and with delight."
Designing at high speed, accepting risk, and staying true to the "original" led to resilient and expedited solutions, all facilitated by the design team, museum, local politicians, business community, and 1000 volunteers. Recognized as a national leader amongst early learning facilities, DuPage Children's Museum's reputation for being innovative transformed the enormity of the restoration project into opportunities to restore the museum in children's terms. The result is the branding of the museum's unique learning experiences, a thoughtful redesign of healthy and responsible environments, with rebuilding with an eye to the future.
We had a great first event with our volunteers and contractors tonight.  It was incredible to hear everyone's response.  The board members in attendance were awed and the kids were thrilled!  I just wanted to take a moment to thank Architecture Is Fun again for your guidance, patience, persistence, and amazing design work during this crazy process. It was incredible team work! The museum is gorgeous! 
~ Kimberly Stull, Director of Exhibits and Operations, DuPage Children's Museum
The museum is stunning!
~ Cricket Brooks, Exhibits, DuPage Children's Museum
Awards:  

Small Projects Award (Pyramid Bench Public Space Object), American Institute of Architects Chicago, 2016, Recognition of the Pyramid Bench's form to be "an active object, with the ability to encourage exploration and movement.
Chrysalis Remodeling Award, Chrysalis Award, 2016.  Recognition of the high quality museum renovation awarded to Architecture Is Fun and general contractor Graycor Construction.
Furnishings Award (Pyramid Bench Public Space Object), American Society of Interior Designers Illinois, 2016, Recognition of the Pyramid Bench as a bridge between interaction and interior design furnishing.
Education Award, Floor Focus Vision Awards, 2016, Awarded to celebrate the dynamic integration of flooring and architecture.
Celebrating Inspiration Award, Naperville Education Foundation, 2016, Awarded to celebrate the museum's encouragement of creativity and innovation in school students.
Best Chicago Museum Award, Nickelodeon Parents Picks, 2010.
Distinguished Building Award, American Institute of Architects Chicago, 2003.  Recognition of significant achievement in design, planning and execution; DuPage Children's Museum conveys a strong message of value and vitality.
Accessibility Award, Western DuPage Special Recreation Association, 2003.
Best Museum of the Western Suburbs Award, West Suburban Living Magazine, 2002.

Owner:  DuPage Children's Museum
Architecture, Interior Architecture & Exhibit Design:  Architecture Is Fun, Inc.
Art Curator & Commissioning Agent:  Fun Finders
Artist Wonder Room:  Luftwerk (Commissioned via Fun Finders)
Artist Journey:  Emmy Star Brown (Commissioned via Fun Finders)
Artist Imagination:  Molly Z (Commissioned via Fun Finders)
Architect of Record:  Sheehan Nagle Hartray Architecture
Location:  Naperville/Illinois
Status:  Completed 2002, Restoration 2015 (Renovation to all 3 floors).
Photography:  © Doug Snower Photography and Sharon Exley.
Read more about the materiality of the pyramid bench and our use of Corian® to shape the play tops.
SaveSave
SaveSave
SaveSave
SaveSave
SaveSave