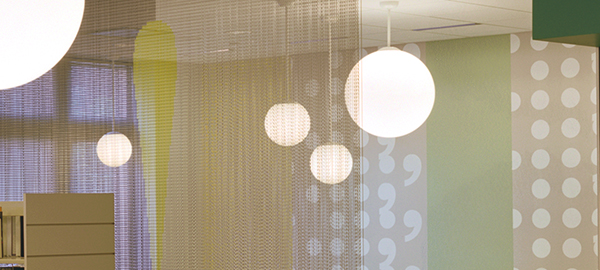 Evanston Public Library: Teen Loft
Carving Out Room and Resource For Teens
Wow. This is the first time I've been in here and I love it! It's so teenagerish. I really wish my room looked like this!  You're kidding, teens helped design this?!  I didn't know cool stuff like that went on.
~ Evanston High School Senior
Teens on the design team demand physical separation from the main library without isolating their new distinct space. Carving a 2000 SF teen "Loft" out of unused storage space provides easy access to staff and adult reference materials.
Illuminated digital letters within a translucent honeycomb panel spell out ownership. The palette represents the duality teens acknowledge about how they behave. The design nurtures a "silly" side with an egg chair, mod lights, and spaces to lounge and a "serious" side with computers, study rooms, and task lighting. The pastiche of wallpapers speaks of encryption, inspired by both text and technology.
The Reading Bar, a café-inspired counter surrounds a wall of monitors and an informal stage. Teens or the library control technology feeding improv poetry slams or performance.  In 2013, the Loft ran 274 programs and served over 1500 teens.
A local high school senior comments, I walked into the Loft and thought this couldn't possibly be the library.
I've been coming here every day after school. I just can't stay away. I love it so much.
~ Evanston High School Teen
Check out the Teen Library You Tube Walk-Through
Or read more about our work at the Evanston Public Library on the design of the children's library. 
Awards:
Interior Architecture Award, American Institute of Architects Chicago, 2008.
Acknowledgement of a spirited graphic design solution brought about through a participatory process.
Outstanding Project Award, American Library Association & International Interior Design Association, 2007.
Award given for significant achievement for a single space focusing on a specific user group.

Owner:  Evanston Public Library
Architecture, Interior Architecture & Interactive Design: Architecture Is Fun, Inc.
Architect of Record:  Sheehan Nagle Hartray Architecture
Location:  Evanston/Illinois
Status:  Completed 2007
Photography:   © Doug Snower Photography