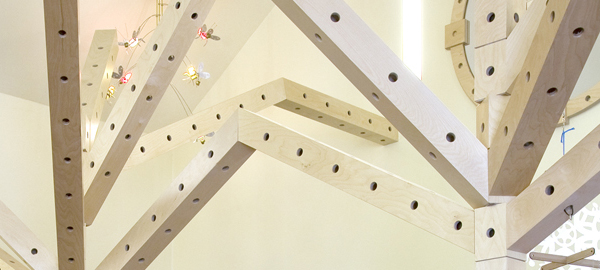 St. Chrysostom's Day School
A Treehouse Chapel for Early Learning
A glorious gateway to St. Chrysostom, this small project demonstrates how dreary ubiquitous space requiring accessibility, egress and system upgrades was transformed into a relevant, inspiring 685 SF place for learning and play.
Tracery, arches, and peek-a-boo quatrefoils build upon the historic church's gothic sensibilities. The loft playspace and verticality of a cathedral of tinkertoy-like trees reinforce spatial and spiritual awareness, while creating canopied niches of exploration. The loft features wide stairs, doubling as seating and performance proscenium, controllable LED color-changing lights, and interactive wall panels encouraging fine motor and perception skills. Flexible, comfortable seating for caregivers at child-height creates shared experience.
A "play sandwich" places resource and storage at one end, play and plumbing at the other, with a "filling" of centers for messy art-making and creative play.  To meet the 12-week schedule and budget constraints, custom millwork configured in original ways is balanced alongside affordable school furniture with intelligent built-in storage. A clever swap-out of stained wood cabinet doors adds charm. Candlestick-like fixtures familiar to churchgoers celebrate meaning and magnificence. Smart flooring and energy-efficient fans are pragmatic, integrated facets that ensure operational viability, comfort, and user-control. The Treehouse Chapel is an appropriate, friendly, and soaring reuse of architecture.
Awards:   
AIA Honor Award – Small Projects, American Institute of Architects, Chicago Chapter, 2013.  Acknowledgement of a sophisticated approach in creating a spiritual and beautiful environment for children.
Contract Interiors Small Project Award, American Society of Interior Designers Illinois, 2012.  Recognition of significant achievement in designing small projects: award given for bringing beauty and form to a small space for children and adults.
Owner:  St. Chrysostom's Day School
Architecture:  Architecture Is Fun, Inc.
Interiors & Procurement:  Fun Finders
Location:  Chicago/Illinois
Status:  Completed 2011
Photography:  © Doug Snower Photography