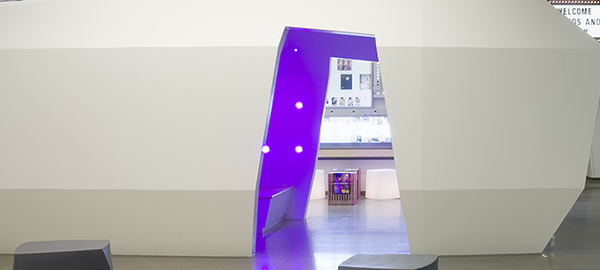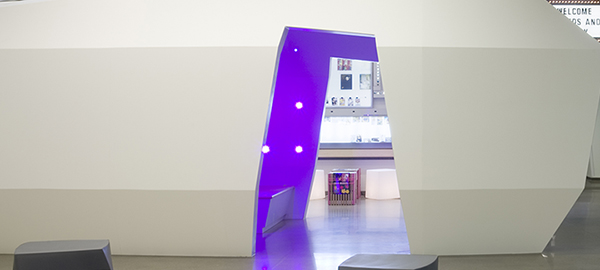 Education Pavilion & Orientation Theatre
Young At Art Museum is an innovative art museum geared to children and families featuring an art cave for using art for learning.
The Cave Big Idea: An enclosed interactive space spans the entry of an art museum for children shaping a literal music video – a 4D rock and roll timeline of art history, in which young artists immersed in light, color, imagery, and sounds make their mark.
° The Cave is an enticing and entertaining destination and first object visitors see; serving as metaphor, meeting place, orientation theatre, art-making space, and mini-classroom. Its column-free structure formed of wood elements is faceted and clad with super white, matte surfacing; all of which contribute to its mysterious nature as a powerful portal of projected imagery and flashing color.
° The artistry of the Cave show, its emotive theatrical lighting, its explosive musical score, the timed progression of art's historical timeline that concludes with an image of its cavern inhabitants make it an interactive art object.
° As the very first museum experience, the Cave brands the paradigm-shift of learning about art to using art for learning. Young artists make their mark analogous to the first cave painting and by doing so; they become part of the journey of art history that flashes on the screen. Image capture in the first few seconds of the show adds visitors to the finale. Young artists explore modern mark-making, from Etch-a-Sketches to Sticky Notes and from Pin Press to Foil-inscribing à la Rudolf Stingel.  As today's modern cave painters, museum visitors come to understand art's capabilities to communicate.
° The Cave's physicality and emotive qualities position it as a frame and foil to the explorative art-making and social engagement that follows as young artists journey beyond.
° RGB LEDs create an affordable, long-lasting source of mini-concert lighting, programmable and affordable, that spills out of the whiteness of the Cave. For security and accessibility, the Cave is open on both sides. The mini LED pod lights, networked and mounted in panels at every height, were chosen because they are low heat in a small, tight space, safe enough to be touched by little hands, fit within the wall's shallow depth, and vivid enough to counter the openness. The system of LEDs is flexible enough to match the massive video content. Above all, it was imperative that the museum be able to maintain and sustain all of the Cave's components economically and technically.
° The ingenious multi-disciplinary team used the openness, content and copyright issues, tight intimacy and irregular faceted interior as a program opportunity, rather than obstacle. The outcome is a mere 4 minute show that meets the short attention span of a child with image capture through carefully timed sequences of projected imagery and allied soundtrack and the dynamic of light moving to the shifting tempo of the music. The original soundtrack moves through a musical timeline that aligns with that of art histories. The finale, like a music video being shown in a nightclub environment, rocks out a history of art where you don't sing along, you make art-along. The resulting visual explosion of art and its histories is reminiscent of Lennon and McCartney's A Day in the Life and its massive crescendo has visitors counting down to the next presentation.
° In addition to hosting educational activities and orienting visitors, the faceted structure creates engaging public space, which is adopted for a wide range of self-guided or programmed art, education, play, and social engagement for families and adults.
° The Cave is discovery. It is ancient. It is new.
° The Cave is crisp, clean, communicative, and cacophonous – it transforms what could have been the ubiquitous museum orientation gallery into a branded experience that is welcoming, mysterious, and memorable for visitors of all ages.
Awards & Recognitions:
Honor Award – Small Projects, American Institute of Architects Chicago, 2016,
[Cave Education Pavilion].
"Playful and innovative – something I would want to peek my head inside."
~ AIA Chicago Design Jury.
Merit Award – Education, CODA Awards Collaboration of Design + Art, 2014,
[Cave Education Pavilion].
"What a fabulous entry it is! Our jurors were incredibly impressed with your explanation of the goals of the project and the integration of the artwork into the space. In addition, the collaboration process between all the parties involved is an outstanding example of artistic collaboration."
~ CODAworx Editors.
Best Picks for the Field's Finest, American Alliance of Museums, 2012.

Owner: Young At Art Museum
Interior Architecture, Public Space & Exhibit Design: Architecture Is Fun, Inc.
Multimedia Curator & Sourcing of Designed-Objects: Fun Finders
Lighting & Multimedia: Dear Productions
Location: Davie/Florida
Status: Completed 2012
Photography:  © Doug Snower Photography & Emma Exley