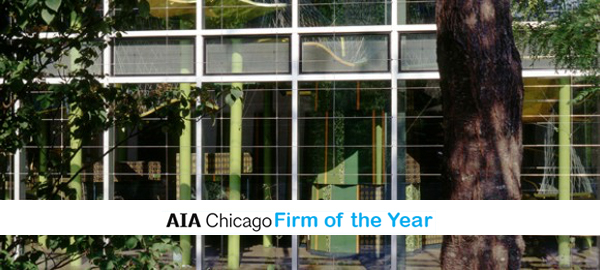 Pritzker Family Children's Zoo
…a project that appeals to adults while delighting children.
~ Neal David, AIA, Vice President, Lincoln Park Zoo.
Tucked right in the Pritzker Family Children's Zoo is a building containing the canopy climbing adventure. Is it awesome? It's pretty awesome.
~ Linda Marisicano, Blogger and Parent, Babble Chicago.
Lincoln Park Zoo is also home to the Canopy Climbing Adventure, considered one of Chicago's best indoor play spaces (and still a secret to many parents).
~ Dave Wischnowsky, Columnist, Webtimes Online.
A Sophisticated Kid-Centric View of Nature
Children innately feel At Home in the Woods because the building, landscape and experiences have been designed with them in mind. The immersive and natural settings become appropriate backdrops for forging connections to the natural wonders existing just out their back door.
Indoors, the interior simulates nature's growth and rebirth, an educational environment where stylized woods come alive year round. This long space undulates with skewed columns and wall panels that mimic the vertical rhythm of overlapping tree trunks. A canopy climber of curved plywood leaves soars 20 feet high. Children climb, safe within wire mesh nests, discovering secret views of the patterned terrariums and aviary below. Viewing window, touch tanks, and a mosaic water table connect hands-on experiences with visible reality. The children's zoo crafts an indoor landscape of learning composed of layers of personal and collective experiences.
Drawing the experience of the Pritzker Family Children's Zoo at the Lincoln Park Zoo from Sharon Exley on Vimeo.
Landscape Architecture's online feature about the zoo.
Awards:
Interior Architecture Award, American Institute of Architects, 2007.
Award given to recognize a sophisticated and kid-centered approach to re-creating a natural setting indoors for play and learning.
Distinguished Building Award, American Institute of Architects, 2007.
Recognition of creation of an indoor and outdoor landscape of discovery and magic, orchestrated to encourage children to explore nature.
Honor Award, Arkansas Society of Landscape Architects, 2005.
Award given to recognize a significant achievement in landscape architecture and urban design.
Owner:  Lincoln Park Zoo
Architecture, Exhibit Design & Interpretive Programming:  Architecture Is Fun, Inc.
Architect of Record:  EHDD Architecture
Landscape Architecture & Animal Habitats:  MESA Landscape Architecture
Location:  Lincoln Park Zoo/Chicago/Illinois
Status:  Completed 2007
Photography:  © Doug Snower Photography
SaveSave
SaveSave